Comprehensive Shipping Services in Harrisburg
Full Range of Logistics Services
We can ship your valuable items from any point of origin to any destination. When you use our comprehensive U.S. domestic shipping and international freight shipping services, you can focus on other tasks confidently knowing that we are ensuring your shipment is managed correctly and the process is running smoothly.
Craters & Freighters in Harrisburg will support your freight shipping project from pickup to shipping to delivery. We offer a secure, smart, efficient packing and shipping process in only three simple steps:
Step 1: Reach out to us and we'll discuss all of your personal packing and shipping needs 
Step 2: You will receive our professional, recommended approach to your project and a quote
Step 3: Once we've all agreed to the terms, our freight shipping team will start your packing and shipping process
Shipping Service Options
What is the best way to get your items where they need to go? We work with you to find the ideal solution out of the many options we have available. That includes how your shipment is crated and transported, as well as the timing of pickup and delivery.
We treat every engagement like it is our only engagement. We have found that that is the best way to ensure your valuables make their journey safely, securely, and cost-effectively.
And if any issues arise, we address them promptly and fully to make sure your shipment stays on track from start to finish.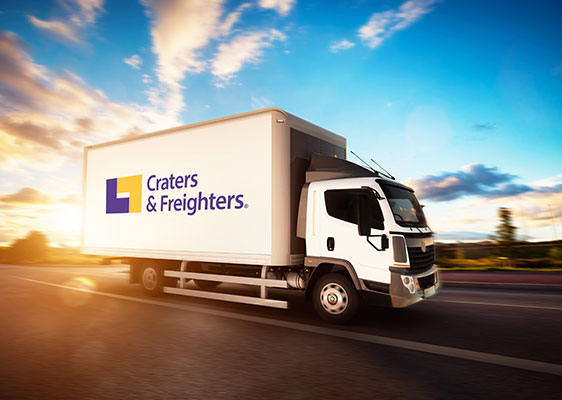 Why Ship With Craters & Freighters?
If you're looking for a freight packing and shipping company, Craters & Freighters in Harrisburg can handle your project from start to finish. We are true leaders in the shipping industry with over 20 years of experience behind us. Our comprehensive global packing & shipping services are ideal for any kind of shipment you have: oversized, heavy, hazardous, fragile, valuable – we do it all with precision and care.
In Harrisburg and throughout the United States, our freight shipping teams are dedicated to our customers crating and shipping projects, no matter how big or challenging. We offer the services, logistics, and customer support you need; ensuring that you feel confident with the decision to ship their valuables with us.
Whether you're moving your residence across town or your industrial machinery across the sea, we can manage every part of the shipping process, providing custom wooden crate design and engineering inclusive of inner supporting packaging for any item that needs it.
We appreciate the importance of the items we safely secure and ship which is why our staff is trained to work with all kinds of belongings and all kinds of people. We will always provide an effective and cost-efficient partnership with our customers.
Craters & Freighters is internationally recognized for our diligence in supporting any kind of commercial, residential, domestic, or international freight shipping service, as well as our exceptional custom crating and packing services.
We Ship Anything & Everything
Large, heavy, oddly shaped, or fragile items do not intimidate us. There is not much we have not shipped. In fact, we look forward to the kinds of challenges that other providers walk away from. If you're wondering if Craters & Freighters freight forwarding company in Harrisburg is right for you, the answer in all certainty is yes.
Call us at 215-234-8090 to learn more about our full array of shipping services.
Your unique crating, packaging, and freight shipping project needs tailored attention and our team will be sure it gets it. Your items will always be cared for with respect and your personal requirements will be carried out.
Craters & Freighters is well prepared for any shipping service you're in need of and it will be handled and managed throughout with professionalism and thoughtfulness, striving to go beyond even the best practices. Our custom wooden crate specialists are experts in getting any item anywhere it needs to go safely.
Let us show you that we are the best choice for your freight shipping project out of Harrisburg, whether you need domestic shipping, international shipping, air freight shipping, ocean freight shipping, pickup and delivery services, or anything in between, we can do it all.
 If you'd like even more reasons to let us take care of your packing and shipping project, read more about us, look at some of our reviews by our discerning clientele, and learn more about our sustainability efforts and projects.
When looking for a crating and freighting service in the Harrisburg area, you have choices, but we know that if you work with us, you're working with an unmatched logistics team.  A team that truly provides the whole package, no matter the size of your packing, crating, or shipping project.  Call us today and let's get started.  
Get a fast, free, no-obligation cost estimate from Craters & Freighters Harrisburg.
Provide some information on your needs and we'll get back to you right away with a figure you can use in your planning.