Experienced Custom Wood Crating & Packing Services in Harrisburg, PA
EXPERT CRATING SOLUTIONS
Harrisburg's Craters & Freighters are custom crating specialists. Our premium wooden shipping crates are thoughtfully and meticulously designed and engineered for maximum safety and protection. Whether you need crating and shipping services for oversized, valuable, fragile, or hazardous items and materials, we can handle it all. Ensuring every piece we touch gets wherever it needs to, nationally or internationally, damage-free and efficiently is our goal.
Our Harrisburg custom crating team is trained, experienced, and professional. We all take great pride and provide the best in tailored, comprehensive crating and shipping services. However, we are much more than our services alone. We are respectful, responsible, and honest and we value your trust. 
Custom wooden shipping crates built by our experts are created with several factors in mind: dimensions, weight, value, fragility, and destination to name a few. And we understand the importance of both inner and outer supports for every item.
Crating with Care
At Craters & Freighters, we recognize that no two jobs are ever the same and we treat each with the special attention it deserves. Having a one-size-fits-all approach will never benefit the customer or their valuables which is why we take the necessary time to ensure each of our wooden packing crates is precisely created to match the size and weight of each individual item. 
Our custom crating services come complete with unique blocking, padding schemes, bracing, and supports for ultimate protection. Creating these additional layers of protection are necessary for secure transport through unpredictable shipping events, whether by air, sea, or ground. 
Traveling internationally? No problem. We will ensure your items meet all requirements and are compliant with any rules, laws, or specifications to get into the country of final destination safely. 
We don't take shortcuts and we don't compromise, we are fully invested in each of our custom wooden crating designs and our customers will vouch for it.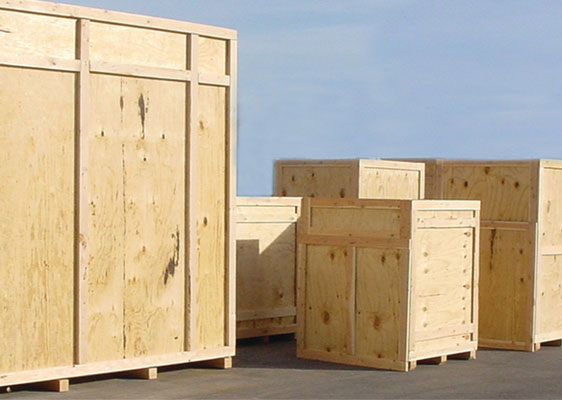 Protection Where It Matters Most
If you've never experienced the rough elements found throughout the shipping stream, you don't truly understand the significance of expertly crated and packaged items. Many challenges can arise and we know how to manage them. 
Harrisburg's Craters & Freighters designs shipping crates to hold up under extreme circumstances. We have the knowledge and experience to engineer wooden shipping containers and all the supporting structures and padding to get your valuables where they need to go safely.
Call us at 215-234-8090 to learn more about our services, including:
We Offer On-Site Custom Packaging and Crating Services in Harrisburg
We understand that sometimes our customers can't get their heavy, large, bulky, or awkward items to our warehouse. That's no issue for Craters & Freighters. We have the means to design and build the crate you need at your location. And, don't worry, it will be built with the exact same attention to detail, precision, and excellence that would be done in-house, inclusive of proper cushioning and stabilizing supports. 
Or maybe you're looking to make your shipment, move, or storage needs a bit easier. We're happy to build your customized crate with matching supports at our warehouse and bring it to you. Call us and we'll go over the process.  
Any Crating and Packing Need Covered
Craters & Freighters are industry leaders and we have years of know-how and insight supporting us. We are here to make your packaging, crating, and shipping process run smoothly, providing you with confidence and security all along the way.  
Our Harrisburg custom wood crating and shipping services are top-of-the-line and our team of specialists cannot be beaten. Call us today and let's get your shipment moving. Phone: 215-234-8090
Get a fast, free, no-obligation cost estimate from Craters & Freighters Harrisburg.
Provide some information on your needs and we'll get back to you right away with a figure you can use in your planning.